Business
First Capital Holdings PLC & Habitat for Humanity Sri Lanka empower communities in Galle
Summary
At a simple yet momentous day for the joyful home-beneficiaries, First Capital Holdings PLC and Habitat for Humanity Sri Lanka successfully handed over four (04) homes to families in the Bope-Poddala Division in the Galle District recently. Senior staff representing […]
At a simple yet momentous day for the joyful home-beneficiaries, First Capital Holdings PLC and Habitat for Humanity Sri Lanka successfully handed over four (04) homes to families in the Bope-Poddala Division in the Galle District recently. Senior staff representing both organizations, along with government officials, stood with these four families as they stepped into their new homes.
This partnership involved First Capital Holdings PLC pledging LKR 15 million, for the 'First Capital Housing Project' in the Galle District, providing deserving low-income families with safe and stable homes. The first four homes were constructed under the technical supervision of Habitat for Humanity Sri Lanka, for K. H. Achala Udayanthi, G. W. Siripala, H. G. Krishanthi, and K. H. Vipulasena.
The handover ceremonies for the four homes took place with the participation of the senior management of First Capital Holdings PLC, including Mr. Dilshan Wirasekara, Director/ CEO; Mr. Tharusha Ekanayake, COO; Ms. Wasanthi Stephen, Group Chief Human Resources Officer; Ms. Nisansala Munasinghe, Head of Marketing and Mr. Dimantha Mathew, Head of Research. The Director General of the National Secretariat for NGOs, Mr. Raja Goonaratne, along with the Additional District Secretary, Galle District; Additional Divisional Secretary of Bope-Poddala Division and other local government official graced the events alongside the staff of Habitat for Humanity Sri Lanka.
"From living in a house with an unstable roof, that was on the brink of collapse and unable to withstand heavy rains, to seeing them in this beautiful home, is truly remarkable!", stated a neighbor of Achala Udayanthi, making Habitat's mission in building homes, hope and communities a reality.
Commenting on the importance of this partnership with Habitat for Humanity Sri Lanka, First Capital Holdings PLC, Director/CEO Dilshan Wirasekara said, "As a group, we recognize the importance of improving the living conditions of our people and uplifting the lives of disadvantaged communities. As such, we are pleased to have partnered with Habitat for Humanity Sri Lanka and to be able to provide these low-income families with safe housing and a decent place to live."
Photo Captions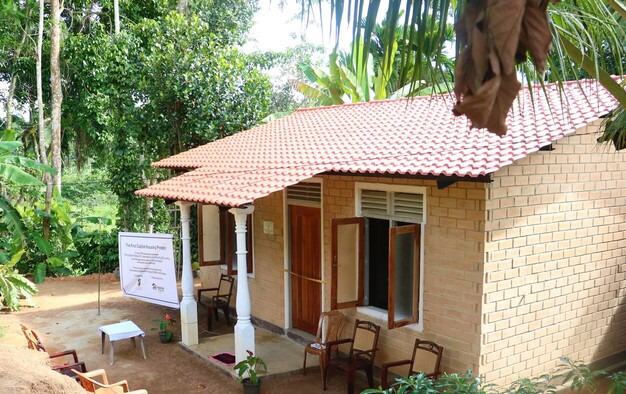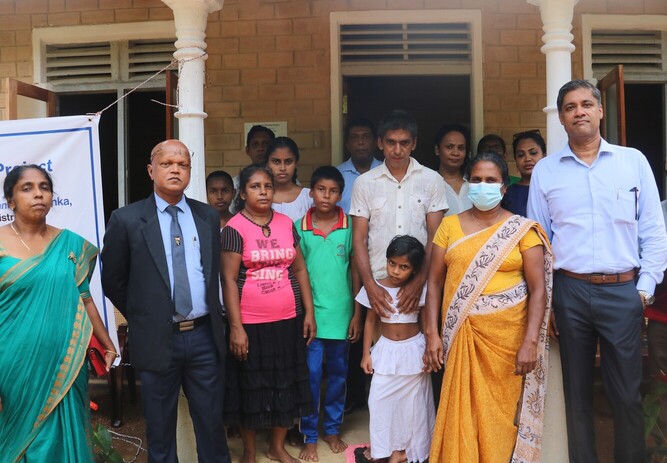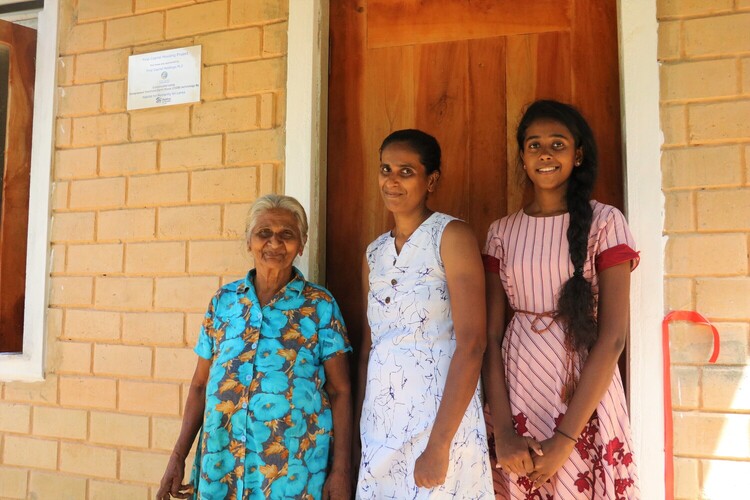 About Habitat for Humanity Sri Lanka
Habitat for Humanity Sri Lanka is an international housing and shelter non-profit organization and is a member of the Habitat for Humanity international network operating in Sri Lanka for over 27 years, committed to fighting global poverty housing and homelessness through affordable housing and sanitation facilities all around the country. To learn more about Habitat for Humanity Sri Lanka's work in communities across communities, to donate or to volunteer, please visit www.habitatsrilanka.org or follow us on Facebook www.facebook.com/habitatsrilanka.